Products
PRODUCT
Steam Sterilizer Autoclave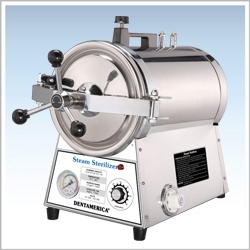 Sale time
DESCRIPTION:
The temperature gauge indicates both the inside temperature and the sterilize pressure. The gauge is graduated in two-degree increments
Easy operation with cycle timer setting at standard 127 ℃
Environmental stainless steel materials of boiler chamber surface.
Large chamber volume up to 16.2 Liters allows for efficient sterilize process.
The safety thermostat control automatically turns off to protect the unit from overheat.
Double pressure adjustments can adjust to optimal inter pressure and self vent if over the standard pressure.
Self-complete program The audible tone sounds and when sterilization is complete and .
Back drain valve design allows for easy cleaning and maintenance.
Stainless and durable sterilize box ensure the sterilize operation.
Metal instruments and gauze require the same sterilize time.
CONTENTS:
Chamber Capacity: 23cm x 39cm (depth)
Interior Capacity: 16.20(L)
Exterior Size: 47cm x 33cm x 41cm
Sterilize Temperature: Highest 127℃, including under temperature
Sterilize Pressure: Highest 1.5kg/cm2, including under pressure
Sterilize Time: 30 minutes
Heater: 1,000W
Material Quality: Stainless steel SUS#304. Boiler chamber with burnished surface.
Electric Current: 220V/7A
Safety Features Double pressureadjustment: adjusts interior pressure if over standard value with automatic vent.