Products
PRODUCT
ROTEX 782E Compact Electric E Type Handpiece Unit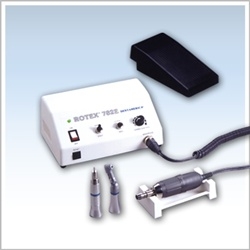 Sale time
DESCRIPTION:
Ball bearing high torque electric motor.
1,000 to 35,000 R.P.M. variable speed.
Double insulation heavy duty construction.
Automatic cooling fan for continuous high speed performance.
Forward/Reverse switch.
Application for grinding, polishing, milling of precious metals, ceramics, acrylics and steel.
Standard package includes Variable Speed Foot Control.
Handpiece and Handpiece Rest.
Circuit overload protection.
Specifications: 100/110V 50/60Hz or 220/240V 50Hz AC
Dimensions: L120 x W190 x H80 mm
Weight: 2.0 kg
Accessories: Control Unit, E Type Air Motor Handpiece, Handpiece Rest, Variable Foot Control, Power Cord, Operation Manual
Order No.163